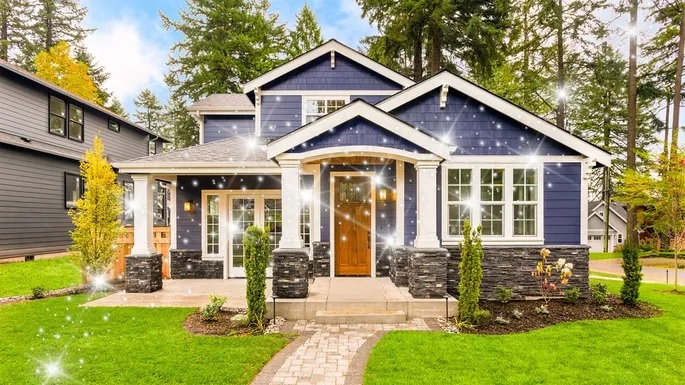 Studies show that we make up our minds about people within seconds of meeting them. So it stands to reason that prospective buyers are doing the very same thing with your house. So if you want to be sure buyers don't scurry out the door moments after they arrive, you have to create a fantastic first impression.
Not sure where to begin? It all starts with looking at your home with fresh eyes.
Interior

Make your home look as spacious as possible. Consider removing excess furniture into storage to create spaciousness in all rooms.
Make a good first impression upon entering by removing excess shoes at entryway.
Kitchens and bathrooms should be spotless and de-cluttered. Make sure kitchen and bathroom countertops are as clear as possible, remove magnets and items from refrigerator.
Thoroughly clean all your appliances, including the inside of your oven and microwave.
Organize kitchen cabinets, pantries, and closets.
Keep toys organized in closets and shelves as much as possible.
Temporarily remove any excess knickknacks or family photos, de-personalize the space. Less is more.
Hang fresh clean towels in the bathrooms.
Re-caulk around sinks and tubs if needed.
Touch up your paint on walls if you can do so with matching paint.
Think about having carpets cleaned, and freshly vacuumed before showings.
Make sure all your faucets are drip-free.
Replace any nonfunctioning bulbs in your light fixtures and vanities.
Eliminate odors as much as possible – place potpourri in the bathrooms, use air freshener and deodorizer, especially if you have indoor pets or there's a smoker in the house.
Let the light in – open all blinds and curtains. If your house's natural light leaves some rooms dark during certain portions of the day, turn on the lights if you know your house may be shown that day. If you have any decorative or track lighting, be sure it is on.
Clean your fireplace.
Fresh bouquets of flowers or potted plants in decorative containers can do wonders.
Exterior
Stay on top of your lawn mowing and maintenance and tidy up your front landscaping.
Sweep away spider webs and leaves from front entry.
Putting flowers by the front door creates warmth.
Invest in a new doormat.
Move all the toys, bicycles, and scooters away from the front of the house.
Clean front door glass and consider a fresh coat of paint.
Invest in a new doorknob and lock if knob is old or worn – this will jazz up your door and provide greater security.
Make sure your street numerals are polished and in place.
Repair any loose shingles – the last thing a potential buyer wants to worry about is the roof.
Paint and repair your gutters.
Basically, just use common sense. Bottom line: Meet and exceed a buyer's expectations by paying extra attention to the fine details.